OUR TEAM
WE ARE ONLY A PHONE CALL AWAY
At AHP Merkle, 100% quality also applies to its Service department – thus quickly and efficiently advise knows no bounds. Every day the skilled professionals and technical consultants help and advise in a fast, flexible and competent manner. We are always happy to help!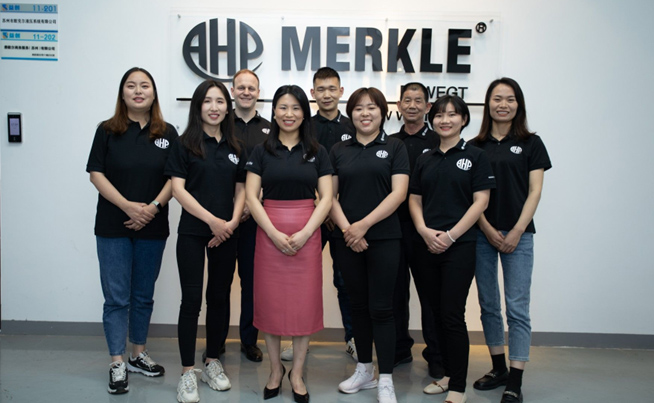 MANAGEMENT

SALES AND TECHNICAL SUPPORT
MAGGIE GUO
SENIOR SALES EXECUTIVE (EAST CHINA)

LILY LU
SALES ASSISTANT (SOUTH CHINA)


Cherry Wang
SALES ASSISTANT


KAM LV
PRODUCT ENGINEER

+86 512 6296 9386-802
+86 512 6855 5327
sales06@ahpmerklechina.com
+86 512 6296 9386-801
+86 512 6855 5327
sales01@ahpmerklechina.com
+86 512 6296 9386-805
+86 512 6855 5327
assistant.suzhou@ahpmerklechina.com
+86 512 6296 9386-811
+86 512 6855 5327
sales08@ahpmerklechina.com
ACCOUNTS
MORE ABOUT SERVICE APPROCH OF AHP MERKLE
Every day we help resolve more than 100 telephone inquiries. At AHP Merkle you will not encounter your conventional salesperson. "Our Sales and Technical Support team have direct industry experience", says AHP founder Gerhard Merkle. The sales team in Germany consists of seventeen experts with a total of 200 years of experience. Ricardo Lopes complements the team in an international capacity and is responsible for more than eighteen agencies abroad and for inquiries from Europe and North America.
"Our goal is to always be there for our customers – from specialist to specialist", says Bernhard Bierer. "A flat hierarchy, highly trained and qualified staff and, of course, always good relationships with our customers make this possible. "Technical Support is an interface between the customer and other departments at AHP Merkle GmbH, for example Development, Production, Shipping and, naturally, the management. "Every one of our support staff is fully integrated into the business processes," assures Christen Merkle. "As a result, we can answer questions of our customers and partners quickly and efficiently."
As extensive as the product catalogue of AHP is so complex are the questions Technical Support needs to answer. "Obviously, we cannot solve every problem off the cuff," says Bernhard Bierer. "But even in these cases we know a network of competent partners. Crucial for us is that our customers can always find a reliable solution to their problem. To this, we are committed. Every day, from the first to the 100th problem, and always with a smile!"
Have you ever wondered who is sitting at the other end of the line?
We want to take this opportunity to introduce to you our colleagues from Technical Support.
We want to take this opportunity to introduce you to our colleagues for further Technical Support worldwide.